Theater is for everyone!
Your gift opens the door for new audience members, students, playwrights making their debut, and actors stepping in to their dream roles. Take your place and help us make sure that everyone in our community can participate by making a donation today.
All contributions greater than $100.00 are eligible for donor benefits.
* Tribute gifts of $500 and above will be listed in our playbills.
If you have specific questions about your gift or membership, please contact Director of Development Luisa Adrianzen Guyer at luisag@pcs.org, 503-445-3729, or Development Manager Jack Ridenour at jackr@pcs.org, 503-445-3744.
---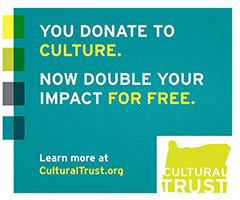 Donors who contribute to Oregon cultural nonprofits, including ours, are eligible to make a matching donation to the Oregon Cultural Trust and receive a 100% tax credit for their Trust donation. For more information, visit
culturaltrust.org.
---
If you have difficulty with this website, please email us at boxoffice@pcs.org or call 503-445-3700.